Tourist Attractions in Rajasthan
Rajasthan is one of the biggest states of India. It is located in the mid northern part of India. Rajasthan is famous of its culture, history, and amazing architectures. It is one of the best tourist places in India. If you are planning to visit Rajasthan then you will get lot of options to enjoy. You should know that Rajasthan is also famous for its hospitality and services. If you are planning for a vacation then Rajasthan has lot of forts, tourist destinations, pilgrim places, monuments, mountains, national parks, and hill stations. It is one of the beautiful states of India. It is true, that Rajasthan has the capacity to get tourist, from all over the world. It is true that your tour to Rajasthan will satisfy you. Rajasthan is also called a state of Kings. It is a hub of monuments.
Pinkcity Jaipur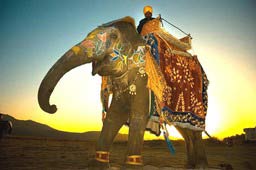 Founded in AD 1727 by Sawai Jaisingh II, Jaipur the capital of Rajasthan is popularly known as the Pink City with broad avenues and spacious gardens. The capital of Rajasthan, Jaipur is steeped in history and culture. Here the past comes alive in magnificent forts and palaces, blushed pink, where once lived the maharajas. The bustling bazaars of Jaipur, famous for Rajasthani jewellery, fabric and shoes, possess a timeless quality and are surely a treasure-trove for the shoppers. This fascinating city with its romantic charm takes you to an epoch of royalty and tradition.
Suncity Jodhpur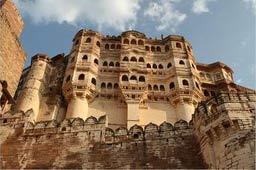 Set at the edge of the Thar desert, the imperial city of Jodhpur echoes with tales of antiquity in the emptiness of the desert. Once the capital of the Marwar state , it was founded in 1459 A.D. by Rao Jodha-chief of the Rathore clan of Rajputs who claimed to be descendants of Rama - the epic hero of the Ramayana. The massive 15th century A.D. Mehrangarh Fort looms on the top of a rocky hill, soaring 125 Mts. Above the plains. The city is encompassed by a high wall -10 km long with 8 gates and innumerable bastions.
Golden City Jaisalmer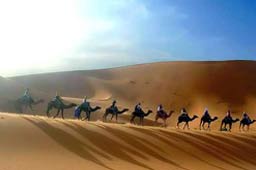 Jaisalmer, splendid caravan city founded into 1155 by Rao Jaisal. Jaisalmer. The yellow city lying in the heart of the desert, is surrounded by sand dunes with an imposing and impregnable sand coloured forts and palaces. The city is a jewel, the exquisitely carved balconies of the merchants " Havellis " with rich filigree work all over, the fort perched atop the Trikuta hill with beautiful palaces and 'jharokhas', Jaisalmer is also called "the Museum city". Today it is an inhabited city whose chief attraction is lacy filigree of pierced stonework facades of merchant havellis and private houses,and a series of ornately carved Jain temples.
Heavens of Vanis Udaipur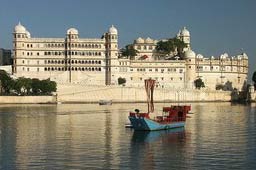 Udaipur - Venice of the East Founded in 1568 by Maharana Udai Singh, the lake city of Udaipur is often referred to as the 'Venice of the east'. Studded with extravagant forts and palaces, hilltop fortresses, awe-inspiring temples and romantic gardens filled with blossoming trees, this 'city of Dreams' is, not surprisingly, a favourite with travellers, both Indian and foreign.
Bikaner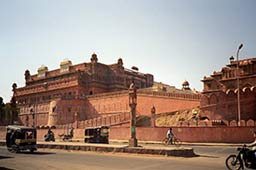 Founded in 1488, Bikaner is a desert built on an elevation and surrounded by a long embattled wall pierced by five gates. A magnificent fort built between 1588 & 1593 by Raja Raj Singh dominates the city. Bikaner stands on a slightly raised ground and is cirucmscribed by a seven km long embattled wall with five gates. The magnificent forts and palaces, created with delicacy in redding-pink sandstone, bear testimony to its rich historical and architectural legacy. Undulating lanes, colorful bazaars and bright and cheerful folks make Bikaner an interesting experience in Rajasthan tourism.
Ajmer-Pushkar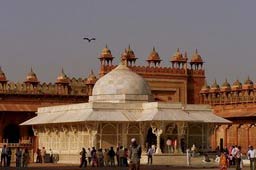 Ajmer was founded by Raja Ajay Pal Chauhan, it derives its name from `Ajaya Meru' the invincible hill, at the foot of which the present city stands. Center of the Chauhan power until Prithviraj Chauhan lost it to Mohammed Ghauri. Thereafter, Ajmer witnessed dynasties, which came and left leaving behind indelible marks of their culture and traditions on the city's history, converting it to an amalgam of various cultures and blend of Hinduism and Islam. Ajmer's pre-eminence is due to the shrine of a Muslim saint who is believed to fulfill one's wishes.
Ranthambhor National Park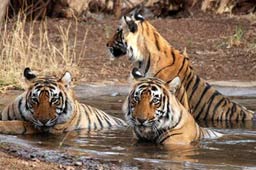 Swai Madhopur is the gateway to the world renowned Ranthambhor National Park- the famous Tiger Reserve , Tigers can be spotted quite often in their natural habitat even during daytime. There are about 264 species of birds found within the park including painted storks, white-necked storks, black storks, peafowl, crested serpent eagles, Bonelli's eagle, Indian horned owl, quail, partridge, spur fowl, paradise flycatcher and jacanas. During winters migratory birds like graylag goose, ruddy sheiduck and pintails may also be spotted. Monitor lizards and marsh crocodiles are also found here. Ranthambore is one of the most suitable places for wildlife photography in world tourism.
Mount Abu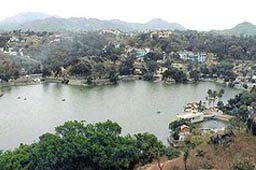 A pleasant retreat set amidst the lush forested hills, Mt. Abu is a green oasis in the barren deserts cape that's Rajasthan. Situated at the southern tip of the Aravali range the hill retreat owes its cool climate to its rich flora covering the entire hillside that includes coniferous trees and flowering shrubs. Famous for its exquisitively carved marble temples, Mount Abu (1219 metres) is a pretty hill resort in the State of Rajasthan.